Tim Kennedy &nbsp &nbsp &nbsp &nbsp
Woodturning and other hand crafted items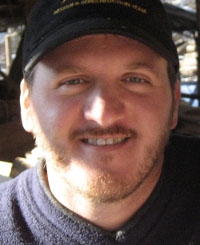 I have always loved working with my hands and have been working with wood as long as I can remember. I started woodturning as a hobby and soon found myself obsessed with the craft, never getting bored with the endless possibilities each piece of wood presents.
Almost all the wood I use is Found Wood. Sources include tree services, construction sites, storm damage, sawmill scraps and reclaimed lumber. I've been known to stop and ask people for wood when I see a tree being cut down. Therefore, most of my work is done in domestic locally grown wood.
Most of my pieces take six months to one year to complete. I cut the blank from green, unseasoned wood, rough it in, and let it dry. This requires a lot of upfront work and a lot of well ventilated storage space. I prefer this method, because the finished piece will hold it's shape well, without much movement in the wood.
Fun is making something from nothing. Passion is doing it well. My work can be found at the locations listed on my Contact page.


ALL CONTENT ON THIS SITE IS OWNED BY Tim Kennedy.
No unautherized use of this content is permitted.